By Andrea Beer, general marketing manager, Hudgell Solicitors
By Andrea Beer, general marketing manager, Hudgell Solicitors
What a fantastic day we all had at the 2016 Humber Bridge Half Marathon.
From the spectacular sight of more than 2,200 runners crossing the starting line together after Hull boxer Tommy Coyle fired the starters' gun to waiting for those in fancy dress to cross the finishing line hours later, it was a truly remarkable event.
The positive feedback over the past 24 hours has been quite overwhelming, with people praising the organisation of the event, the quality of the course (with its stunning views) and the support from the race marshals and crowds.
It is wonderful to know so many people had a great time, and for this credit has to go to the organisers The Rotary Club of Hull and The Rotary Club of Barton, who work tirelessly to make the Humber Bridge Half Marathon one of the very best of its kind in the UK.
Hudgell Solicitors delighted to sponsor Humber Half Marathon
With it being our first involvement as sponsors at Hudgell Solicitors, we were delighted to enter a team of runners ourselves to complete the 13.1 miles course, which starts in Hessle, crossing the bridge into Barton, and then back to the finishing area in the Humber Bridge car park.
Our team out on the course said the atmosphere was fantastic, with runners encouraging one another, great support from the volunteers and marshals, and from the crowds who came out to watch.
We'd like to congratulate all runners who took part for supporting the event, and say well done in particular to Leeds-based runner Jason Cherriman, 35, who was first over line by some considerable distance, with a finish time of 1 hour and 12 minutes. A very impressive run.
Also many congratulations to Sharon Barlow, 38, from Dishforth in North Yorkshire, who runs with Darlington Harriers and was the first woman across the line in a time of 1 hour 23 minutes and 27 seconds.
As usual, there was a mixture of serious elite runners with first time novices, and those running for a cause close to their heart, but everyone involved came together in what was an emotional day with bags of feel-good factor.
There were some really emotional scenes on the finish line as runners, many of whom had made friends out on the course, embraced and congratulated one another.
In our team, it was managing director Neil Hudgell who led the way, coming home in a time of 1 hour 40 minutes and 24 seconds.
Neil was followed by Paralegal Nicola Downey, who crossed the finishing line in 2 hours 12 minutes and 23 seconds, just ahead of assistant solicitor Ben Marsden in 2 hours 12 minutes and 52 seconds.
New claims team member Kelsey Drewery secured a time of 2 hours 21 minutes and 35 seconds, whilst Laura Wilkins, also a new claims handler, was timed at 2 hours, 24 minutes and 28 seconds.
The Fast Cat Family Fun Run was also a great success, won for the second year in a row by Taylor Arnott, 15, from Leven. The first girl to cross the line was Isabelle Horrocks, 14, from North Newbald, who also runs with Beverley AC. Well done Taylor and Isabelle.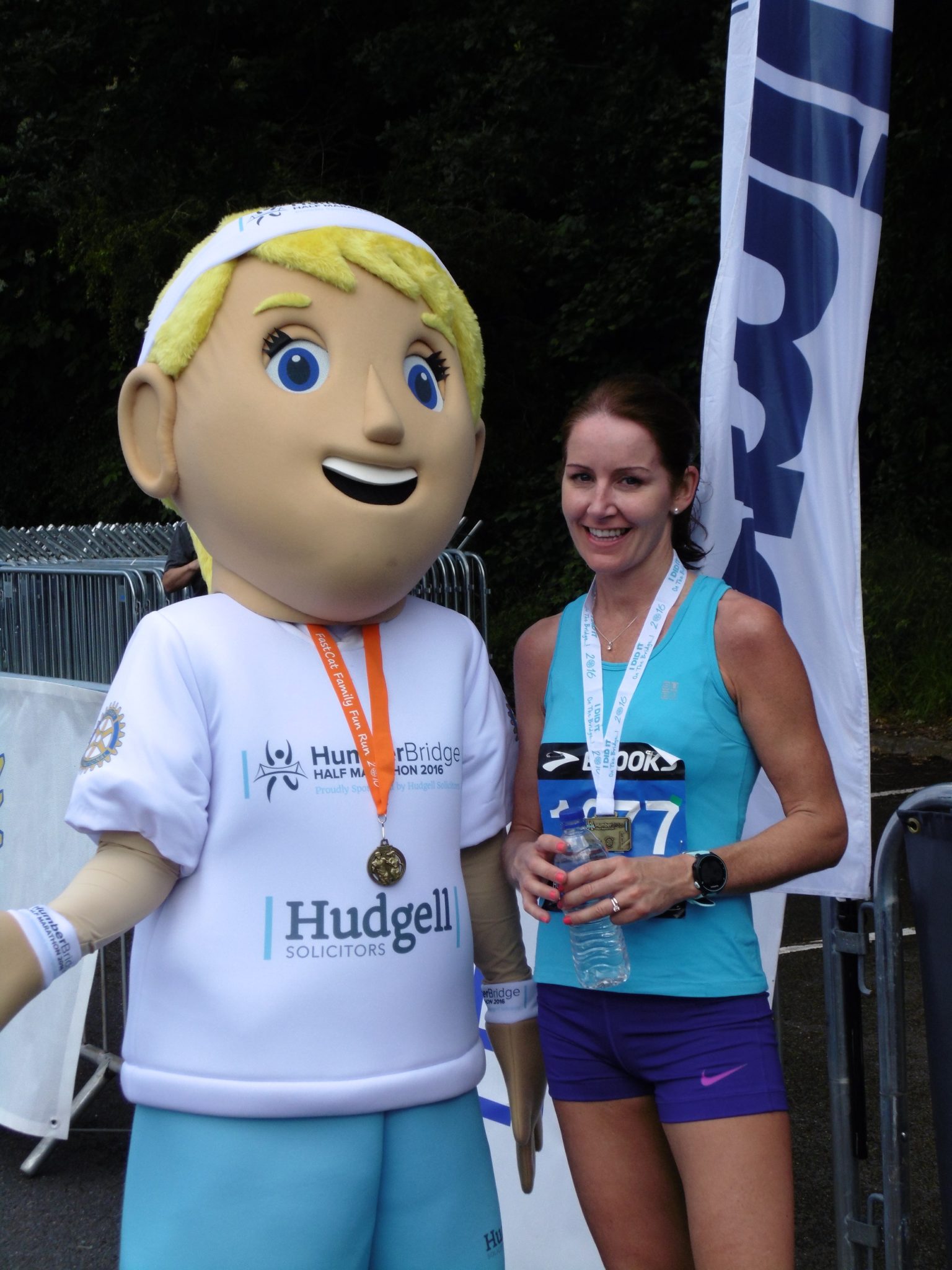 Humber Half can grow further in Hull's 2017 City of Culture year
This was the 17th year of the Humber Bridge Half Marathon, an event which has raised more than £1m for local charities and good causes through runner entry payments and sponsorship.
This year, three great charity partners, The Butterflies Memory Loss Support Group, Hull and East Yorkshire Mind and The Brain Tumour Charity, will be the main beneficiaries. We're sure they are delighted with the support and crucial funding this will bring.
Finally, all eyes will now turn to 2017, when the spotlight will be firmly placed on the region as Hull celebrates being the 2017 City of Culture, an event we are again big supporters of at Hudgell Solicitors as Business Club partners.
We certainly look forward to the role the Half Marathon can play in what will be a fantastic year of events for the region in 2017, and in 2018 and beyond.