Work experience
We recognise the importance of work experience
Hudgell Solicitors appreciate the importance of a work experience programme for students and particularly for those aspiring to pursue careers in the legal field. As we strive to continue to strengthen our early careers proposition, as well as widen the access routes to employment positions with the firm, we recognise the vital role that our work experience programme has to play for students of all backgrounds.
Individuals that complete a work experience placement with Hudgell Solicitors will be eligible to then apply for advertised vacancies such as school leaver or graduate apprenticeships or solicitor training contracts. Our work experience programme therefore has an important role to play in both our people and community objectives and this commitment is recognised at all levels of the business.
Applications are now open for placements throughout 2024 and applications will close at 5pm on Friday 12/01/24.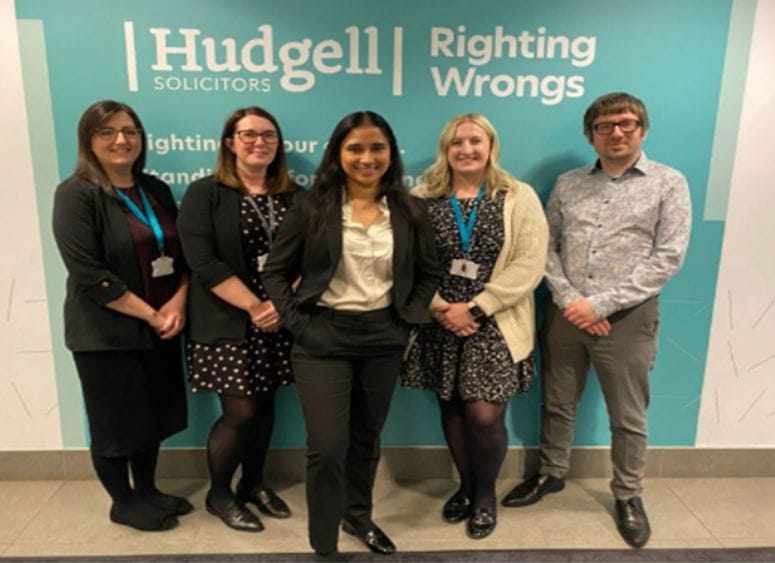 Work experience at Hudgell Solicitors
Hear from Telma
My work experience at Hudgell was brilliant! I had the chance to gain an insight into the reality of working in the legal industry and I was able to make lots of new professional connections which gave me more confidence about entering the industry myself. This is a great stepping stone for anyone hoping for a career in law.
Telma Thomas completed a work experience placement with Hudgell Solicitors Hull office in autumn 2021 and subsequently was successful in her application for a Graduate Solicitor Apprenticeship with the firm. After graduating from university in the summer of 2022, Telma has now started a full time role in our New Claims Team before then starting her apprenticeship in 2023.
Apprenticeships and training contracts
At Hudgell Solicitors continued development is extremely important to us, so whether you are a qualified legal professional or a member of one of our supporting business functions, you can be rest assured that continuing learning and development will play a key role in your quarterly appraisals.
The firm will also support individuals with professional qualifications, memberships and accreditations where this is aligned to our business objectives and your personal development plan.
FAQs
What is the application process for a work experience placement at Hudgell Solicitors?
Please scroll down to the bottom of the page for the online application form.
What age groups are the placements available to?
Our work experience placements are available for students aged 16 and upwards.
Are the placements just available to aspiring lawyers?
Whilst our work experience placements are primarily aimed at aspiring solicitors of the future, it may be that you are interested in working in one of our crucial business support teams such as marketing, IT or finance. If you are interested in a work experience placement in one of such areas, please do let us know on your application.
How many placements do we offer and how often?
By way of example, in 2021 we had 6 students join us for work experience placements. We do not have a set number of placements we offer each year and this varies depending upon business capacity. Our placements are one week long to enable us to offer support with as many placements as possible and could be at any time of the year.
What work will I have experience of during my placement?
You will be given a real life experience of working life in a fast paced Times Top 200 law firm. You will be given as much exposure to and participation in our legal work as is possible commensurate with your age and ability.
Will I have to sign a confidentiality agreement?
All work experience students are asked to sign a confidentiality and data protection agreement to ensure any business or client information is kept confidential. This is a condition of any work experience placement offer. For a student aged under 18, this must be signed by your parent or guardian. We reserve the right to monitor use of IT equipment during any placement.
When will I hear back on my application?
When capacity becomes available for a work experience student to join us for a placement we will review the applications received and communicate to the applicant that has been successful. We will do our upmost to respond to all applications, however due to the incredibly large volumes of applications received, this may not always be possible.
Social media usage
You are not required to post about your experience and time with us during your placement on social media, however with your express permission and consent we may post on our social media accounts or those of employees, including photographs.
Data protection
By applying to Hudgell Solicitors for a work experience placement you expressly provide consent for us to process your personal data provided as reasonably required in conjunction with operating our work experience programme and for us to retain your personal details and application whilst or until your application is considered.