Funding options for wrongful arrest claims
No win, no fee
Be represented by a highly-experienced civil liberties awyer at no upfront cost to you. Under our No Win, No Fee agreement you only pay a pre-agreed percentage of the compensation awarded if your case is successful.
What is wrongful arrest?
What is wrongful arrest?
UK law says that a police officer can only arrest a person if they are wanted on a warrant or if they have "reasonable belief" that someone might have been involved in a criminal offence, or be about to commit an offence, and they, therefore, believe it is necessary to arrest them.
If you wanted to bring a claim of wrongful arrest, the allegation would hinge on two main things
Whether the officer should or shouldn't have believed that the person may have been involved in a criminal offence or about to commit an offence.
Whether or not it was necessary to conduct an arrest.
If inquiries could have been continued without an arrest taking place, then a wrongful arrest may have occurred.
The officer's belief at the time of the arrest can also be questioned and come under scrutiny after the event, especially if it appears that it was unreasonable for them to suspect the individual of a crime.
Specialists in wrongful arrest claims
Specialists in wrongful arrest claims
Our team at Hudgell Solicitors are highly experienced in supporting people who have been wrongfully arrested in making claims against the police force involved.
Whilst we all understand, and to a degree accept, that unlawful arrests will happen as part of the police trying to get to the bottom of cases, there still has to be a genuine reason for each and every arrest carried out.
You will benefit from:
An expert legal team experienced in holding public authorities to account.
A practice that has the benefit of a legal aid franchise and as such, is able to act for the most vulnerable clients, at no cost to you.
An award-winning team that has been nationally recognised and widely accredited for delivering civil liberties legal services to clients.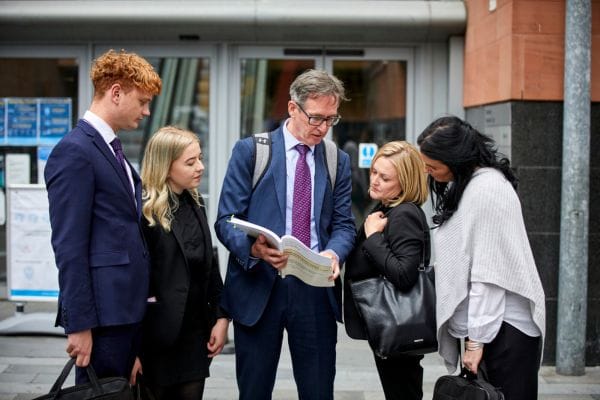 The arrest procedures police must follow
The arrest procedures police must follow
The power to arrest should only be used by the police as a last resort. There must be a lawful reason to make an arrest in the first place, otherwise, this can be considered to be a unlawful arrest.
Any equipment used by the police (such as batons, tear gas, taser guns, or firearms) will also be taken into account when a decision is being made as to whether the force used was reasonable and lawful.
When making an arrest, police must follow a set procedure. Amongst other things, the arresting officer must identify themselves, tell the individual what crime they are suspected of having committed, and explain why an arrest is necessary.
If you feel you were unlawfully arrested, contact our police claims team today for free advice as time limits do apply to these claims.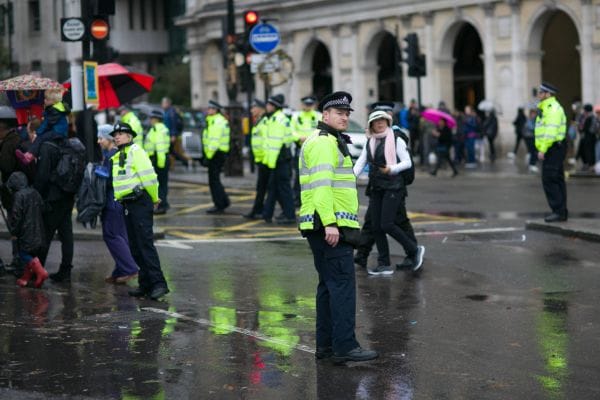 Why seek unlawful arrest compensation?
Why seek unlawful arrest compensation?
Claiming for unlawful arrest can help to restore unfairly damaged reputations.
When people turn to our team at Hudgell Solicitors after being unlawfully arrested they are often understandably very angry. However, their motivation is not usually about revenge or financial compensation, but about restoring their reputation and standing in their community.
They are usually badly affected by the horrendous period they and their families have been put through. It can impact not only on their family and friends, but also at work. People can find themselves suspended from their jobs for a long period of time, as did a magistrate we successfully represented who was wrongly accused of committing a crime.
Cases we have represented include a man wrongly arrested for murder and locked up for 36 hours, and another who was led away by police from his place of work, wrongly accused of committing a sexual assault. In both cases, the investigating police forces soon realised the errors of their ways, but the damage had already been done.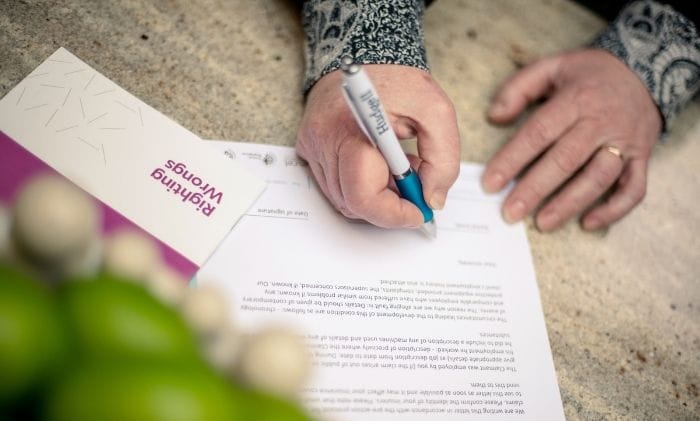 Client stories
Client stories
Ensuring you get the wrongful arrest compensation you deserve
How to make a wrongful arrest claim
How to make a claim
Make a claim in five easy steps
Step 1
Free Initial Advice
Call us, request a callback or complete our online claim form and we will assess whether we think you have a claim.
Step 2
Funding
We will help you to decide how best to fund your claim. Usually we will be able to offer you a No win, No fee agreement.
Step 3
Letter of Claim
We will send a letter to your opponent with details of your claim, setting out why we think they are at fault.
Step 4
Obtain Supporting Evidence & Expert Reports
We will request copies of any supporting documents for your claim and, if appropriate, instruct expert witnesses to provide an opinion in support of your case.
Step 5
Negotiate Settlement
We will review your opponent's response to our letter of claim and update you on the merits of your claim and any valuation before making any settlement offers.
Start your claim today
Feel free to give us a call or begin your claim online
Our client reviews
Our client reviews
We're always committed to getting the optimum outcome for you.
We were put in touch with Hudgell Solicitors through the Advocate to represent us on a pro-bono basis. They assigned Iftikhar Manzoor and he has been fantastic- very down to earth and easy to talk to. Any queries are answered quickly, and there seems to be a real understanding of concerns raised regarding the inquest of a close family member. We are so very grateful of the support they have given us so far, and extremely confident in their ability to achieve the result we hope for.
I wholeheartedly recommend the services of Hudgell Solicitors. Iftikhar Manzoors exceptional handling of our daughter's inquest showcased unwavering kindness, respect, and diligence. They provided invaluable emotional support throughout the process and, with dedication, secured the conclusion necessary for justice. Choosing Hudgell Solicitor is a decision you can trust for compassionate and effective legal representation"
Been speaking with a lovely lady called Karolina Jedrych, she has helped me with my first Steps , making sure I'm well informed and understanding what's happing along the way. Made me feel at ease and confident that I have chosen this team to help me . Thank you very much
The lady who is assisting me with my case is very helpful and understanding her name is karolina I would recommend this company without hesitation many thanks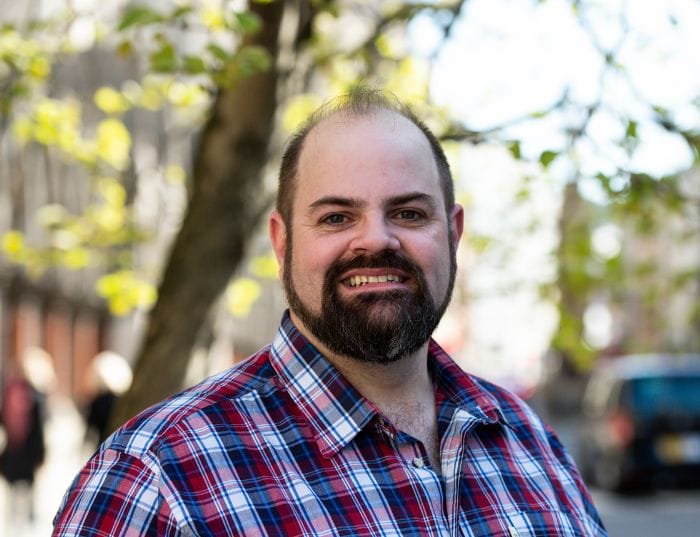 See more
FAQs
FAQs
What should I do if I am wrongfully arrested?
If you believe you are being wrongfully arrested, try to remain calm throughout the procedure. It can be emotionally distressing; however, it is best to stay calm and level-headed.
Anyone who is arrested must be told by the police why they have been detained. If you are arrested, the police can only detain you for a maximum of 24 hours. The Court does have the power to extend this to 96 hours for a more serious arrestable offence.
When you are taken to a police station, you have a legal right to contact a solicitor and speak to them in private. You should communicate with your solicitor about what has happened. From here, you can later decide whether to file a complaint or pursue a claim for compensation.
Can the police be sued for unlawful arrest?
If you have been unlawfully arrested, you can pursue a claim for false imprisonment as well as assault.
If you are the victim of an unlawful arrest, the time spent in custody is classed as being false imprisonment. The amount of damages that could be received would depend upon how long you were unlawfully detained against your will.
Further, if you have been unlawfully arrested, you can automatically claim police assault if you were handcuffed or if unreasonable force was used during the arrest. If your case is successful, the damages awarded would depend on the severity of your injuries – whether they are physical or emotional.
What are the time limits for making a claim of wrongful arrest in the UK?
The time limits vary for claims of police assault and false imprisonment.
For personal injury claims, such as assault or due to negligence in a police station, the person has three years to make a claim. This is three years from the date that the injury took place.
For everything else, including false imprisonment, trespass, and malicious prosecution, you have six years from the date that the event occurred to make a claim against the police.
Speak to one of our advisors
"*" indicates required fields
Meet our civil liberties lawyers
Our lawyers
Local lawyers at the heart of your community
Advice
Advice
Expertise. Trust. Authority
View All
UK law says that a police officer can only arrest a person if they are wanted on a warrant or if they have "reasonable belief" that someone might have been involved in a criminal offence, or be about to commit an offence, and they therefore believe it is necessary to arrest them. If you wanted […]
Get in touch
Feel free to give us a call or begin your claim online